Wedderspoon Raw Manuka Honey K16+ 340g, Squeeze Bottle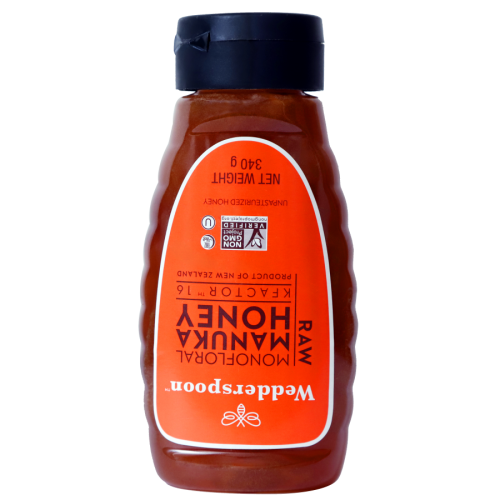 Wedderspoon Premium Quality, Raw Manuka Honey K16+, Mono floral, available in a squeeze bottle of size 340 g
- Raw, unpasteurised and non-gmo verified Manuka honey
- Great taste - smooth and creamy
- Product of new Zealand - sourced, packed and labelled in for genuine, unadulterated quality
- Genuine: factor is an approved rating system, one of only four methods the ministry for primary industries in new Zealand recognises to grade Manuka Honey
MONO FLORAL HONEY: Wedderspoon Manuka Honey is raw, never pasteurised, Non-GMO Project verified Manuka Honey, traceable from hive to home.

NEW ZEALAND HONEY BEES: Over a period of six weeks, New Zealand honey bees are hard at work producing tons of honey consumed globally every year. Wedderspoon Manuka Honey is raw, Non-GMO project verified and every jar is sourced, packed and sealed in New Zealand for the ultimate in authentic quality.

AUTHENTIC FLAVOR: As the honey crystals dissolve on your tongue, your taste buds will come alive as they recognise earthy notes and caramelised sugars with hints of pepper and ginger. No need to refrigerate once opened.

MULTIPLE USES: Super food is used for home ?remedies?, DIY beauty regimes, energy for active lifestyles or drizzled on your favourite foods. In addition to the bold flavor profile; world renowned Manuka honey has naturally occurring live enzymes and is taken daily by many consumers including nutritionists and athletes.

RAW HONEY: Enjoy Raw Manuka Honey from Wedderspoon's, New Zealand and Trust us, the quality is amazing.