With the organic products flooding the Indian retail stores, it is hard to identify how true the organic claim is. To address increase in customer's complaints in regards to duplicity and fake organic products, the Food Safety and Standards Authority of India (FSSAI) introduced the Jaivik Bharat regulation. Please Click here if you want to read more on the regulation.
The organic product that complies with the FSSAI Jaivik Bharat regulation needs to have a Jaivik Bharat logo similar to green vegetarian symbol, so that customers could easily identify the product meeting the required compliance.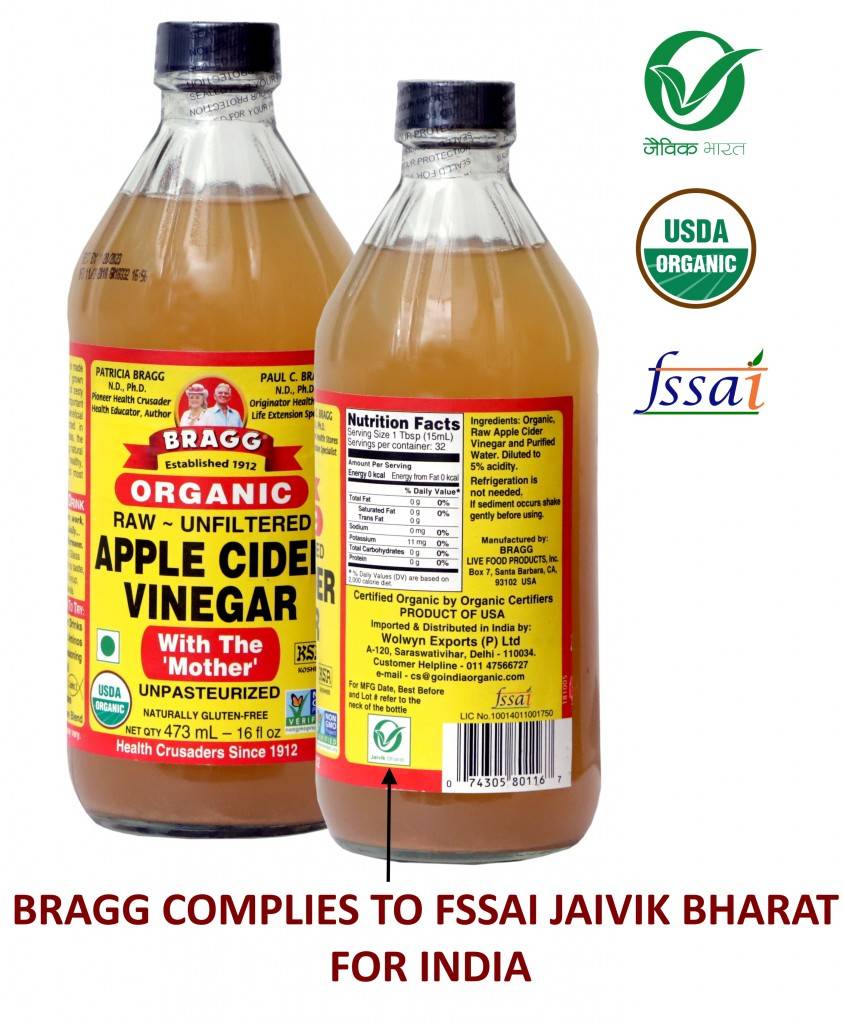 GoIndiaOrganic is pleased to announce that the quality of Bragg Organic Apple Cider Vinegar is now meeting the compliance as per FSSAI JAIVIK BHARAT requirements. The Jaivik Bharat symbol on the Bragg main label certifies that compliance has been ensured by the manufacturer i.e. Bragg, USA.
What this means to consumers?
Consumers need not worry on the authenticity and the quality of the product. To meet the compliance the product quality check is done at multiple stages. One before leaving the Bragg facility in CA, USA and second before when it leaves the Indian customs, tested by the FSSAI accredited laboratories in India.
Every batch that connects to India, has necessary health certificates supporting the quality checks.
What consumer should look on the Label for Authentic Bragg Apple Cider Vinegar in India?
– Jaivik Bharat Logo i.e. India Organic Logo
– FSSAI Logo and FSSAI license number
– Manufacture Name and Address
– Importer Name, Address and Helpline
– Green Vegetarian Logo
 If the above details are present, it signifies that the product has gone through all the stringent quality check norms as laid by the Indian Govt. Ensuring that product is truly organic and authentic quality gets into India. The most important is the Laboratory tests that are conducted on each batch.
If the product that you have bought does not meet the above regulatory guidelines, please return it back to the retailer and report it to FSSAI !!!
GoIndiaOrganic.com on Google+