Golden Apple Raw Organic Wild Garlic with Pumpkin - 130 gm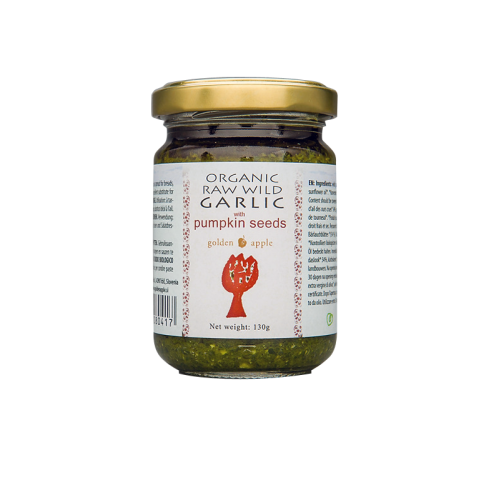 WILD GARLIC – UNIQUE SUPERFOOD FROM SLOVENIA
Legend of the Wild Garlic tells us that bears eat it to cleanse their body of the toxins which had gathered during winter hibernation. That's where the Latin name for wild garlic comes from Allium Ursinum – Bear Garlic.
Wild Garlic can be found in early spring and it usually grows in water rich areas. It contains numerous vitamins, minerals and essential oils. The vital substances of Wild Garlic have a strong cleansing effect on the body. It helps to clean and disinfect the intestines, lowers blood pressure, supports the circulatory system, lowers blood cholesterol levels and helps with blood restoration.
Golden Apple Wild Garlic is a WILD PLANT, gathered in a completely unpolluted area where there's no mass farming or any other ˝civilisation˝ influences to the environment.
Ingredients - Wild Garlic Leaves, Pumpkin Seeds, Olive Oil, Sunflower Oil, Himalian Salt
Confirmation - Gluten Free, Dairy Free, Sugar Free, Soy Free