Garden of Life Vitamin Code Whole Food Multi Vitamin Men's,120 Count
Vitamin Code for Men | Whole Food Multi Vitamin - 120 ct Vegetarian Capsules especially for Men needs.
Live Probiotics & Enzymes | RAW food created Nutrients with Code Factors | No Binders or Fillers | Vegetarian | Gluten Free | Dairy Free
Whole food Vitamin Code for Men, Garden of Life® paid particular attention to the needs of mature men during this special stage of life. Providing select nutrients to support the primary areas of prostate health with added vitamin E, selenium and zinc, memory and concentration with vitamin B complex, vitamins C, D and E,and optimal digestion with live probiotics, enzymes and vitamin D, Vitamin Code Men's Formula delivers an outstanding combination of nutrients for mature men.
Vitamin Code Men's is a comprehensive multivitamin with RAW Food-Created Nutrients™ offering an extreme synergistic blend of vitamins and minerals for extraordinary health and vitality. This specialized formula for maturing men addresses the nutritional needs to support the following areas:
Prostate Health – Vitamin E, Selenium, Zinc
Healthy Heart & Blood Pressure – Vitamin B Complex, Vitamins C and E
Mental and Physical Energy – Vitamin B Complex, Chromium
Optimal Digestion – Live Probiotics and Enzymes, Vitamin D3, Zinc
Memory & Concentration – Vitamin B Complex, Vitamins C, D and E
Eye Health – Vitamins A, C, E, Zinc
.
It is RAW
Uncooked, Untreated, Unadulterated
Binder Free — No Fructose, Maltodextrin, Magnesium Stearate or Corn Starch
Live Probiotics & Enzymes
Food-Created Nutrients
Premium, RAW, Whole Food Ingredients
Individual Nutrient Creation with RAW Fruits & Vegetables
Body-Ready
Formulated for Easy Digestion
Nutrient-Specific Peptides
Suggested Use
Adults take 4 capsules daily. Best when taken 2 capsules twice a day. May be taken with or without food. Capsules can be opened. Contents can be taken directly with water or raw juices. Not intended for children.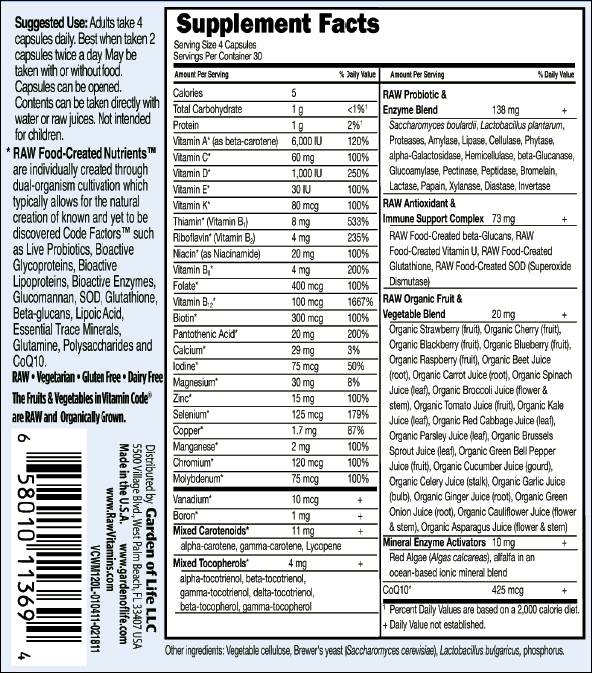 Other Ingredients
Vegetable cellulose, brewer's yeast (saccharomyces cerevisiae), lactobacillus bulgaricus, phosphorus.
Manufactured in a facility that also processes soy.
May contain soy.
Contains no filler ingredients, artificial colors or preservatives.
Review - http://www.amazon.com/Garden-Life-Vitamin-Multi-Vitamin-Capsules/dp/B00280M14I/ref=sr_1_13?ie=UTF8&qid=1380715409&sr=8-13&keywords=whole+food+multivitamin
Source - http://www.gardenoflife.com/Products-for-Life/Vitamin-Code/Multivitamin-Formulas/50-Wiser-Men.aspx
GoIndiaOrganic brings to your Premium Quality Multi Vitamins in India, Raw Whole Foods Multi Vitamins from Garden of Life. Get Garden of Life Whole Food Multi Vitamin in India. Buy Whole Food Multi Vitamins in India, be it in any city of India – Delhi, Gurgaon, Pune, Chandigarh, Ahemdabad, Chennai, Hyderabad, Bangalore, Mumbai. To buy Multi Vitamin for Men in India, Contact us at +91-9958599911, +91-11-47566727 , email us at [email protected], or place your order online with us at Garden of Life Vitamin Code Whole Food Multi Vitamins Men