Low Glycemic Organic Blue Agave - 333 gm
Wholesome Sweeteners | Organic Blue Agave | Low Glycemic Sweetener
This mild nectar made exclusively from the renowned Blue Agave ("Weber azul") is a perfect multi-purpose sweetener for beverages, fruit and general table top use. Now in 44oz sizes! From Central Mexico. No refrigeration required
Wholesome Sweeteners Organic Blue Agave is a natural sweetener extracted from the core of the Blue Agave plant.
Sweet, mild nectar is 25% sweeter than sugar (so more is less!)
A perfect multi-purpose sweetener for beverages, fresh fruit and general table-top use
Blue Agave is non-crystallizing and quick dissolving.
Glycemic index of 39 or less; 55 or below is classifed as low glycemic
Natural sweetness without the blood sugar spike
No refrigeration required
Wholesome Sweeteners' agave nectars have been tested by an independent glycemic lab
Glycemic index will vary from person to person, depending on how each person metabolizes sugar, and on other foods consumed at the same time.
Blue Agave has a bright sweetness that quickly dissipates. Perfect in baked goods, fresh fruit and smoothies, salad dressings and savory sauces.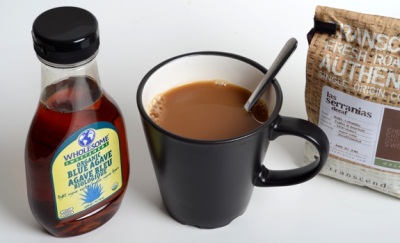 Cooking tips:
Use as a one-for-one replacement for sugar, then adjust to your own personal taste. Some chefs prefer to use 75% as much Blue Agave nectar as they would sugar in a recipe, but others prefer a straight 1:1 replacement.
Reduce the other liquids in a recipe by up to 30%.
Cook lower and slower: reduce your baking temperature by about 25 degrees and bake for a little longer
NUTRITIONAL FACTS
(Typical analysis*)
Serving Size: 1 Tablespoon (21g)
Servings per package: varies depending on the package size
Calories per serving: 60
Calories from fat: 0
Total fat (g): 0
Saturated fat (g): 0
Cholesterol (mg): 0
Sodium (mg): 0
Total carbohydrate (g):16
Dietary fiber (g): 0
Sugars (g): 16
Proteins (g): 0
Calcium (mg): 0
Iron (mg): 0
Ingredients: Organic Blue Agave nectar (light)
Product of Mexico.
Certified Organic by Quality Assurance International
The pH of Organic Blue Agave syrup is 4.3 to 4.8, which makes it very stable and prevents fermentation. While we recommend storing Organic Blue Agave syrup with the lid on and in a dark cool environment, refrigeration is optional. The recommended shelf life is 2 years minumum after opening.
GoIndiaOrganic introduces USDA certified Organic Blue Agave, premium product from Wholesome Sweeteners, now available in India. Get Organic Blue Agave in India, be it in any city of India – Delhi, Gurgaon, Pune, Chandigarh, Ahemdabad, Chennai, Hyderabad, Bangalore, Mumbai. Contact us at +91-9958599911, +91-11-47566727 , email us at
[email protected]
, or place your order online with us at our
Online Organic store