Lyva Organic Acai Powder - 100 gm
Lyva Organic Acai Powder - Amazon Superfruit
Acai is native to the tropical floodplains of Central and South America and was first used medicinally by Amazon cultures. Lyva Organic Acai Powder contains 100% freeze dried acai powder that is certified organic, kosher and vegan.
Lyva Acai has long been a cherished food of traditional Amazonian cultures for its health benefits and unique taste. Favored among athletes and health seekers, the deep purple acai berry is a potent source of antioxidants, healthy fats, and essential micronutrients. Our freeze-dried whole berry powder makes it easy to enjoy acai rich and creamy texture, along with its unsweetened mild flavor hinting of chocolate and berries.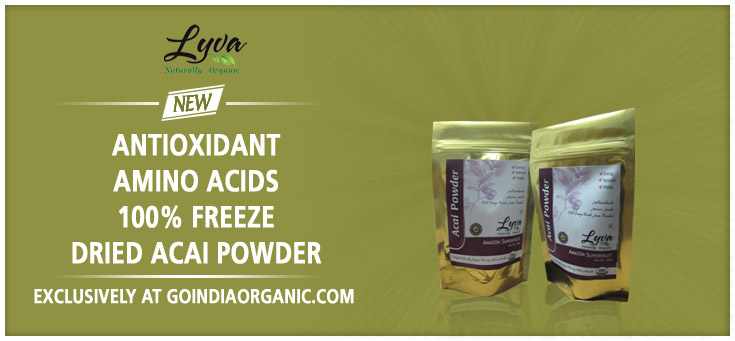 Suggestive ways - Smoothies, Desserts, Shakes, Yogurt, Gradnola
Source
Lyva Acai Power comes from the low-lying coastal areas of Brazil. To provide best value to the customer, the packaging is done in India providing finest quality Organic Acai Powder at the best value. The only ingredient in our wonderful Acai Power is pure 100% organic acai that is also certified kosher and vegan.
Super Palm of the Amazon
Native to the tropical floodplains of Central and South America, acai berries grow on tall palm trees extending up to 25 feet high, which are climbed and harvested by hand. Acai has enjoyed a long history of popularity extending thousands of years: from ancient Amazonian tribes using it medicinally, to modern Brazilian surf cultures prizing acai as an excellent energy food. Navitas Naturals offers this superfood in a convenient freeze-dried whole berry powder.
The Power of Acai
Nutritionally, acai is considered a true antioxidant powerhouse, and is loaded with healthy monosaturated and polyunsaturated fatty acids. The berries also possess many other micronutrient including polyphenols and flavonoids.
GoIndiaOrganic.com launches USDA certified Lyva Organic Freeze Dried Acai Powder, now available in India. Get Organic Acai Powder in India, be it in any city of India. Delhi, Gurgaon, Pune, Chandigarh, Ahemdabad, Chennai, Hyderabad, Bangalore, Mumbai. Contact us at +91-9958599911, +91-11-47566727 , email us at
[email protected]
, or place your order online with us at our
Online Organic store
.