Organic Teether, Bonbon from DressMeUpOrganic
Now get premium quality organic teethers in India for your babies.
Certified organic cotton and naturally antibacterial wool make our Organic Teething Bonbons® the gentle and safe solution for baby's teething pain.
1. Dip the ends in water.
2. Leave the centre stuffing dry.
3. Toss in the freezer 'till needed.
The cool, firm teether knots naturally soothe tender gums, while the wool stuffing keeps little hands warm. Great as baby's first toothbrush too. Easy care – machine wash & dry
Each Organic Teething Bonbon® is handmade one at a time in our Canadian, west coast studio from organic and sustainable materials. The cotton shell is 100% certified organic USA cotton embroidered with one of a kind free form stitching. The centre of the Teething Bonbon® is stuffed with Canadian wool. For more exciting information on our materials and creation process, please visit our About page.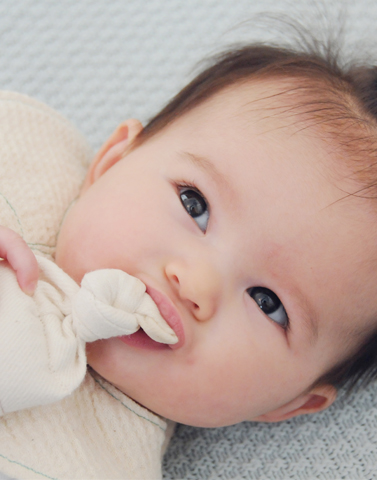 Washing Instructions: Machine wash & dry!
Size: Approx 7" long
Materials: Proudly made in Canada from North American sourced materials
Uniquely embroidered, each Teething Bonbon® is one of a kind – stitch lines and placement vary. 'Vanilla' and 'Butterscotch' refer to the organic shells' colour. Our organic cotton
Teething Bonbons®, are not flavoured!
GoIndiaOrganic launches the Premium Organic Teethers, now available in India. Get Organic Teethers, Organic Cotton Teethers in India, be it in any city of India – Delhi, Gurgaon, Pune, Chandigarh, Ahemdabad, Chennai, Hyderabad, Bangalore, Mumbai. Contact us at +91-9958599911, +91-11-47566727 , email us at
[email protected]
, or place your order online with us at our
Online Organic store