Barlean's Wild & Whole Krill Oil | Get Finest Omega Krill Oil in India
Barlean's Superba Omega Krill Oil is a pure, and renewable nutrition source from the icy, pristine waters of Antarctica and is 100% unfiltered and unrefined
Wild & Whole Krill Oil is considered to be the finest source of Omega-3s , Phospolipids, and Antioxidants.
Superba is the only source of krill oil that is certified to the Marine Stewardship Council (MSC) standards. The MSC has created the most demanding and rigorous standards to ensure the marine populations and the ecosystems in which they live remain healthy and productive for today and for future generations.
Check out more on Barlean's Wild & Whole Krill Oil
Loaded with premium, Phospholipid-bound Omega-3s and Antioxidants, our potent, tiny gel caps of Barlean's Wild & Whole Krill Oil are more readily absorbed by your body than standard fish oil products. Click here to see why.
Omega Krill Oil | Wild & Whole Krill Oil | Ultimate source of Omega-3s, Phospholipids & Antioxidants
Optimal Essential Fatty Acid Nutrition
Superior Bio Availability
Small Fish Softgels
Powerful Antioxidants
Easy Digestion – No Fishy afterwards
Sustainably Caught – Marine Stewardship Council (MSC) Certified
May reduce risk of Coronary Heart Disease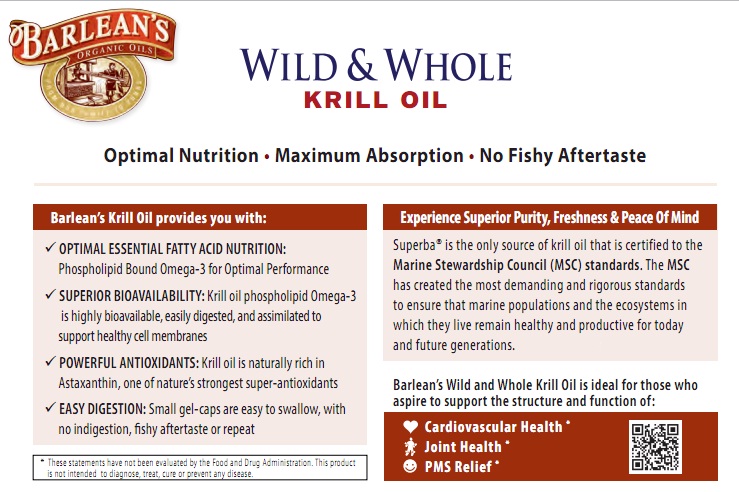 100% Guaranteed – We're confident that Barlean's will bring you the results you expect
Available Sizes – 60 count
Ingredients – Krill Oil, Fish Gelatin, glycerine, water and natural berry flavor. Contains shellfish
Suggested use – 2 softgels daily
GoIndiaOrganic launches the #1 recommended Barlean's Wild & Whole Krill Oil, premium product from Barlean's Organic Oils, USA, now available in India. Get Krill Oil in India, be it in any city of India – Delhi, Gurgaon, Pune, Chandigarh, Ahemdabad, Chennai, Hyderabad, Bangalore, Mumbai. Contact us at +91-9958599911, +91-11-47566727 , email us at [email protected], or place your order online with us at our Online Organic store
Sources of Information
http://krilloil.mercola.com/krill-oil.html
http://articles.mercola.com/sites/articles/archive/2011/08/26/how-can-this-oil-help-you-beat-these-24-common-diseases.aspx
http://www.doctoroz.com/blog/kristin-kirkpatrick-ms-rd-ld/new-omega-3-krill-oil