Nikken magsteps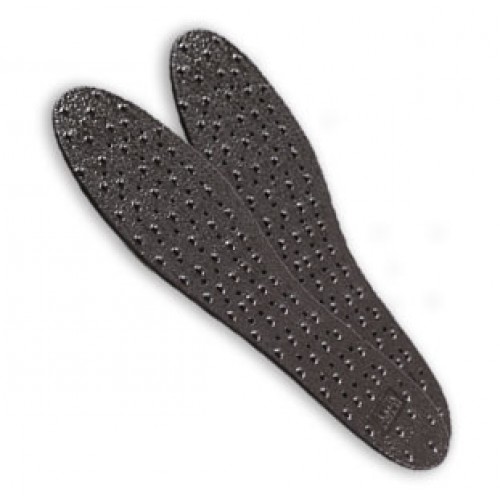 Nikken Magsteps – Now in India
An aching back, tired legs, overall fatigue. If you're well acquainted with these common miseries, chances are your're on your feet for all or part of the day. Slip a pair of Nikken MagSteps or MagStrides into your shoes, and discover an energizing boost you'll feel all over, from the ground up – even at the end of a long day
When your feet hurt, your whole body knows it. But you can be relaxed and comfortable even if you're on your toes all day, thanks to Nikken insoles.
Nikken introduced the original Magsteps® in 1975 — the company's first product. The textured surface was inspired by the pebbles found underfoot in Japanese public baths, known to produce a stimulating and energizing sensation. In the insoles, this was combined with magnetic technology, another ancient principle. Today Magsteps® and Magstrides® are in shoes all over the world
Magsteps® are the absolute best insoles on the market today! Featuring Nikken exclusive EQL Magnetic Technology and durable, reinforced construction, they are designed with strategically shaped and placed nodules to provide your entire body with the benefits of an energizing foot massage. And Nikken EQL makes these the only insoles that provide perfectly consistent, 100% magnetic coverage on the entire surface. These advanced insoles are worn by millions of people the world over. They are exclusively constructed with two layers of specially engineered reinforcing mesh embedded on the inside layer, plus a resilient, flexible, wear-resistant outer coating. Magsteps® come in three trim-to-fit sizes for both men and women.
Advanced Magnetic Technology
Nikken magnetic products contain proprietary, patented innovations and make use of static (permanent) magnets, for safety and reliability. Nikken products such as the Kenko™ Sleep System incorporate bipole and RAM™ magnets to produce a pattern of magnetic flow that creates a landscape of peaks and valleys of magnetic energy considered ideal for a sleep surface. In Nikken insoles, EQL Magnetic Technology maximizes the number of intersecting flux fields and consistency of coverage. Magnetic Biaxial Rotation in the Nikken PowerMag generates a dynamic magnetic field. The Nikken PowerChip™ introduces DynaFlux™ Magnetic Technology, with a unique system that increases field depth. The Kenko Naturest™ Travel Pillow features SpyderRAM™ Technology, a flexible web that conforms to any shape
To learn more about Nikken magnetic technologies click here.
An Idea Born in a Bath
Centuries ago, the Japanese discovered that placing pebbles on the floor of their public bath housed imparted a relaxing stimulation to the sole of the foot – weary bathers felt energized after walking on this slightly bumpy surface.
Inspired by this time-honered wellness practice, a man named Isamu Masuda began looking for a way to place a textured surface insider his shoes. It was a novel idea that combined with a ground breaking technology, would revolutionize the insole industry.
Built to go the Distance
Nikken Magsteps, Magstrides and kidstrides are exceptionally well made. Each lightweight insole is constructed of several layers, permanently bonded and reinforced for strength. Yet they're flexible to allow freedom of movement.
MagSteps – A spontaneous foot massage
The brainchild of a Japanese entrepreneur, the first Magsteps insole would also launch a company – and a wellness revolution
Featuring EQL Magnetic Technology and durable, reinforced construction, Magsteps are designed to provide the entire body with the energizing benefits of a foot massage. Walking, standing or sitting, the strategically shaped nodules stimulate and invigorate to help you stay on your feet all day, comfortably
Since 1973, Magsteps have found their way into millions of shoes
Get Nikken Magnets, Nikken Magsteps, Nikken PiMag Waterfall, Nikken PiMag Sports Bottle in India, be it in any city of India – Delhi, Gurgaon, Pune, Chandigarh, Ahemdabad, Chennai, Hyderabad, Bangalore, Mumbai. Contact us at +91-9958599911, +91-11-47566727 , email us at [email protected], or place your order online with us at our Online Organic store