Plant Fusion Phood Shake, Chocolate Caramel, 31.8 OZ
100% Plant Based Whole Food Meal Shake | Now Get Plantfusion in India
The Everything Shake with
Plant-Based Protein - Balanced compete proteins
Whole Food Vitamins - Organic wholefood sources of vitamins and minerals
Complex Carbs - Complex nutrient-dense carbs
Probiotics, enzymes, fiber, and a powerful phytonutrient blend of greens
Essential fats rich in Omega 3-6-9
Gluten Free
No Dairy
No Soy
No Animal
Hypoallergic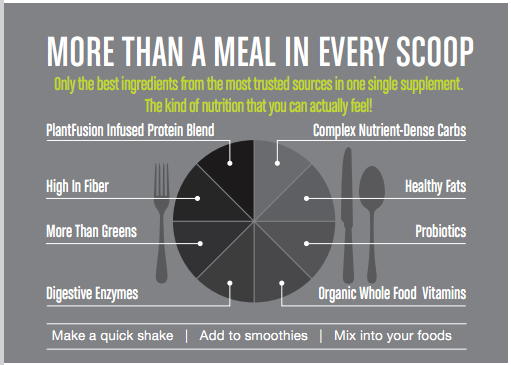 Understanding the Nutrition Facts
Organic Superfood Energy Matrix
Modcarb - patented blend of complex carbs from organic ancient grains. Nature's perfect sustained energy source. And the superfruit Baobab, an encredible energy food harvested from Africa's prolific "tree of life"
WholeFood Vitamin / Mineral w/Green Complex
100% of vitamins and minerals are sourced from organic plants. No chemically isolated vitamins added. Includes a unique blend of organic cruciferous greens to support antioxidant nutrition, heart health and glucose balance
PlanFusion Multi Source Protein Blend
Five uniquely balanced protein sources with enhanced levels of key branched chain amino acids and glutamine
Land & Sea EFA Blend
More than just Omega-3s, complex blend of flax, algalin and sunflower is also rich in naturally occuring phytonutrients like lutein, zeaxanthin, and tocotrienols
Probiotic, Digestive Enzyme Blend Lactospore
Shown in the scientific studies to maintain stability & potency longer than other probiotics. Plus, natural enzymes to aid in digestion
Directions: Add two scoops to 12 oz of chilled water in a shaker cup or blender and mix for about 5 seconds. Store in a cool, dry place and away from direct light. Keep out of reach of children.
Contains No: Sugar, Dairy, Wheat, Gluten, eggs, Peanuts, Soy, Tree nuts, fish, shellfish, preservatives, artificial colors or flavors
Ingredients
PlantFusion Multi Source Protein Blend - Plea, Artichoke, Organic sprouted amaranth, Organic sprouted Quinoa, Algalin and a proprietary amino acid blend of leucine, Isoleucine, Valine, Glutamine and Glycine
Organic SuperPhood Energy Matrix - Modcarb (Organic Oat Bran, Organic Amaranth, Organic Quinoa, Organic Buckwheat, Orgain Millet, and Organic Chia) and Baobarb Fruit
Land & Sea Blend - Flax, Algalin and sunflower providing 4,400 mg of Omega 3-6-9
Whole Food Multi Vitamin / Mineral with Green Complex - Organic Blend of Guava, Lemon, Sesbania, Amla, Holy Basil, Annatto and Sprouted Broccoli, Watercress, Daikon, Radish, Kale, Mustard, Red Clover and Cauliflower
Probiotic, Digestive Enzyme Blend Complex - Lactobacillus sporogenes and Bacillus coagulans, Alpha galactosidase and Bromelain
Other Ingredients - Inulin, Cocoa, Stevia, Erythritol, Natural Chocolate flavor, Natural Caramel Flavor, Silica, Vitamin D3 (Cholecalceferol), Lo Han Gua and Xantham Gum
Source - http://www.plantfusion.net/
Reviews - http://www.amazon.com/Plant-Fusion-Phood-Chocolate-Caramel/dp/B00BGVME1K/ref=sr_1_2?ie=UTF8&qid=1380446648&sr=8-2&keywords=phood
GoIndiaOrganic brings to you the best quality of nutrition rich foods and proteins. Now Get Plantfusion plant based meal in India. Buy Planfusion Phood & other raw organic proteins & shakes readily available in any city of India be it Delhi, Bangalore, Hyderabad, Chennai, Chandigarh, Tamil Nadu, Kerala, Mumbai, Pune, Nagpur, Gujarat, Jhallandhar. Contact us at [email protected] / +91-11-47566727 to enquire about more details