Flahavans Irish Organic Porridge Oats 1kg - Rolled Oats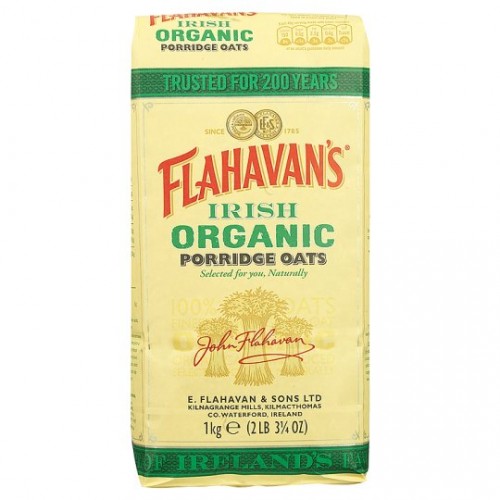 IRELAND'S NO.1 PORRIDGE OATS - Organic Porridge Oats - Rolled Oats
Certified Organic - 100% Organic Oats, available in packing size of 1kg
Flahavan's have been milling quality oats for over 200 years at the family mill beside the river Mahon at Kilmacthomas, Co. Waterford and continue that tradition today as well.
Oats are among the healthiest of cereals. This is becuase they are high in fibre, containing a good balance of soluble and insoluble fibre. Soluble fibre is found in all fruit and vegetables but is particularly rich in oats. There is scientific research which states that soluble fibre from oats, when taken as part of low fat diet can lower cholestrol. Oats are naturally low in sugar, salt and saturated fats
- A Bowl of Flahavan's is all about taste
- A delicious, creamy breakfast
- Organically grown oats
- Certified Organic
ENJOY THE TASTE OF IRELAND'S FAVORITE PORRIDGE OATS
For the perfect Porridge
On the hob - Serves 1 x 40g helping of perfect Flahavan's Porridge
Stir a 1/2 cupful of Flahavan's Organic Porridge Oats into 1-1/4 cupfuls of cold water / milk. Bring to the boil and cook briskly for 3 minutes, stirring all the time. Cooking time will be reduced if the oats are soaked overnight
Quick Cook Instructions
Serves 1 x 40g helping of perfect Flahavan's Porridge
You can prepare Flahavan's Organic Porridge Oats quickly and easily in a bowl using a mocrowave oven. We recommend that you use a deep bowl and allow over an inch at the top of the boal for the oats to expand. Put a half cup of Flahavan's Organic Porridge Oats and one cup of water (or milk) in a deep bowl. Do not cover. Microwave on high for 2-1/2 to 3 minutes
Cooking times vary accordingly to microwave wattage. Leave to stand for 1 minute, stir briskly and serve.
Now easily buy organic oats online India, Gourmet quality Irish Organic Porridge Oats from Flahavans Ireland. Simply place an order online to get free shipping anywhere in Delhi, Gurgaon, Chandigarh, Mumbai, Bangalore, Chennai, Hyderabad, Bangalore, Kerala and other citities of India. For any details contact us at [email protected]