Flahavans Irish Quick Porridge Oats - Microwaveable 500G, 100% Wholegrain Rolled Oats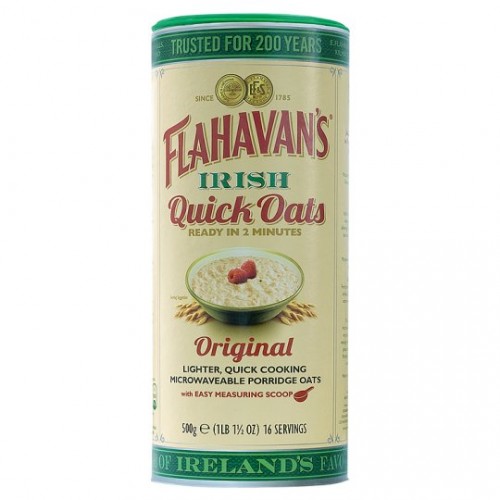 Flahavans Irish Quick Oats - Available in a packing of 500 g, 100% Wholegrain Rolled Oats
Ready in 2 minutes
Original, Lighter, Quick Cooking Microwaveable Porridge Oats. Flahavans unique way of milling gives oats their natural, wholesome texture and flavor. Quick Pats are milled that bit lighter to help prepare the porridge more quickly in the microwave. The result is a warm, creamy, nourishing bowl of Flahavans
A bowl of Flahavan's is all about taste, locally produced Irish Oats, convinience of Quick Oats. Flahavan's
The unspoilt local environment and mild wet climate is ideal for growing the finest oats. This is the reason why Irish Oats are considered to be the world's best oats in terms of quality and taste. Flahavan's is maintaining the same taste and quality since last 200 years. The milling techniques are handed down over the generations to create perfect porridge oats.
Beta-glucan is a soluble fibre found in oats and some other foods. Regular consumption of beta-glucan as part of varied, balanced diet and healthy lifestyle acan contribute to the maintenance of normal blood cholestrol levels. Each serving (30g) contains a quarter of the 3g of beta-glucan suggested per day to help maintain normal cholestrol levels.
Each 30g serving made with water contains
Calories - 112 (6%)
Sugar - 0.4g (<1%)
Fat - 1.7g (2%)
Saturates - 0.3g (2%)
Salt trace (<1%)
Taste and enjoy the freshness of Ireland !!!
Now easily buy irish quick oats in India, Flahavans gourmet quality irish oats