Nikken Air Wellness Traveller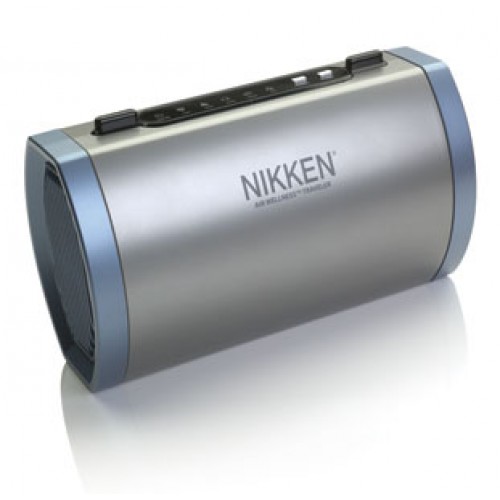 Nikken Air Wellness Traveller – Freshiest Air while on go !!
Air on the go. The Nikken Air Wellness® Power5™ introduced a revolutionary advance in home air systems. The Air Wellness® Traveler offers the same innovative approach to indoor air, in a compact unit – for enjoying better air in an automobile, office space, school dorm room, or practically anywhere.
The Traveler uses a multiple-stage combination of filter technologies, including advanced HEPA filtration. It features a negative-ion generator that operates without producing ozone and automatic or manual operation. Considering the amount of time that today's family spends in the car, at work, or away from home, it is clear that indoor air in these places matters just as much. The Air Wellness® Traveler can help you feel the wellness in the air – on the go
- A combination of features not found in other auto air filters
- Four-stage advanced filtration
- Negative ion generator
- Ozone-free technology
- Selectable aromatherapy
- Automatic filter replacement indicator
- Automatic operation or selectable power level
The Facts
- Exposure to air pollution in a car is a twofold problem. Outside the car are high levels of particulates. The interior can contain the same types of pollutants found in homes. Passengers may be exposed to a variety of contaminants from inside and outside. The interior is also a confined space, so occupants may be subject to higher levels or repeated exposure
- The Air Wellness Traveler features technologies that help to provide cleaner, fresher, invigorating air, reducing a wide range of pollutants and using technologies inspired by nature
- The system includes a prefilter, a dust/deodorizing filter and porous metal (copper) filter. Photocatalytic action destroys pollutants
- In Japan, a walk through a forest or by a mountain stream (where high amounts of negative ions are present) is regarded as relaxing and energizing and which the Japanese call shinrinyoku, "forest-air breathing."
- Air conditioning tends to reduce or remove negative ions from the air. The Traveler can help to correct the balance
- The Traveler features clean ion generation. This unique technology operates without producing ozone. Ozone is classified by the United States Environmental Protection Agency as a toxic gas
- A mobile air system is versatile, for use in the car, office or almost anywhere
- People are spending more time in their cars than ever. Commuting now consumes a large portion of the day for adults. Children are driven to school or play instead of bicycling or riding a bus. More time in the family car means that clean air inside is more important.