Bragg, Premium Nutritional Yeast Seasoning, 4.5 oz (127 g)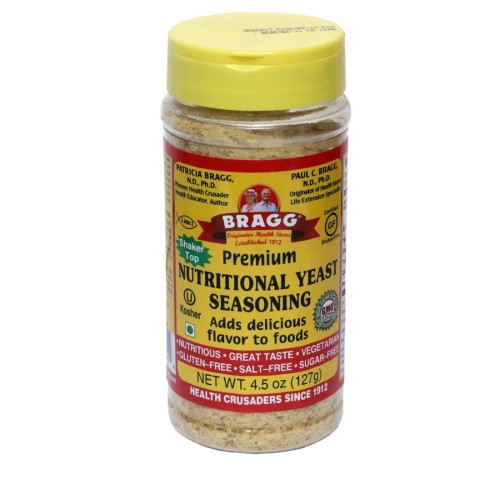 Bragg Premium Nutritional Yeast Seasoning provides great-taste and nutrition when added to wide variety foods and recipes. Makes a healthy, delicious seasoning when sprinkled on most foods, especially: salads, vegetables, soups, potatoes, rice, pasta and even popcorn!
Bragg Premium Nutritional Yeast Seasoning is a fortified yeast food. The yeast is grown and harvested under controlled conditions, fortified and then dried and grinded to size before being packaged. It is not solvent extracted, synthetically preserved, or iradiated, and it is free of any artificial additives, including but not limited to: artificial preservatives, flavors and colors.
Specifically designed to help meet the nutritional needs of vegetarians, vegans and anyone wanting a good source of B-complex vitamins (including natural vitamin B12)

Suggested Use
Add to soups, dips, spreads, cereals, juices and smoothies for added flavor and nutrition. Its "cheese-like" flavor makes it a great no sodium, no cholesterol, delicious, healthy alternative to recipes and most all foods.
This product contain no salt, sugar, no egg, milk, gluten, wheat, corn, no starch, soy, animal derivatives, no artificial colours & preservatives, no candida Albanians yeast or brewery by-products as in brewer's yeast.

Other Ingredients
Inactive Dry Yeast, Niacin (B3), Pyridoxone HCl (B6), Riboflavin (B2), Thiamin HCl(B1), Folic Acid and Vitamin B12 (produced by natural fermentation - not synthetic or animal source)
Warnings
Store tightly sealed in cool dark place.
Bragg Nutritional Yeast Seasoning has amazing customer testimonials and highly recommended across all ages. Now Bragg Nutritional Yeast Seasoning is easily available in India !!