Bragg Raw Unfiltered Apple Cider Vinegar - 473 ml (16 oz)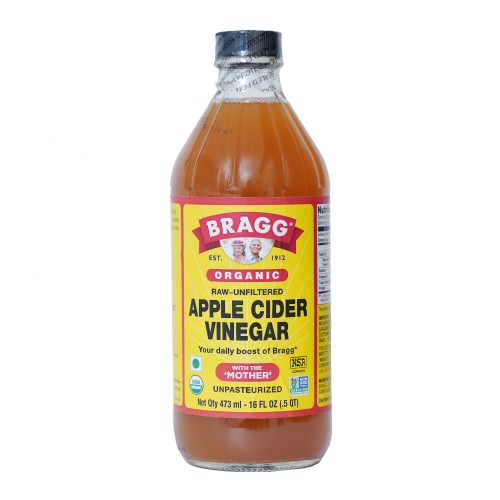 Bragg, Raw, Unfiltered, with the 'Mother' (Naturally Gluten Free)
Bragg Raw, Unfiltered Apple Cider Vinegar – 16 oz / 473 ml bottle, available from Bragg Live Foods, Inc. USA.
BRAGG, pioneering health products worldwide is a well renowned name across the global for the excellent organic range of products inclusive of Organic Apple Cider Vinegar, Organic Extra Virgin Olive Oil, Organic Liquid Aminos. goIndiaOrganic team, proudly announces the availability of Bragg products in India.
Certified Bragg Organic Raw Cider Vinegar is unfiltered, unheated unpasteurized and 5% acidic. Contains the amazing Mother of Vinegar which occurs naturally as strand like enzymes of connected protein molecules.
Bragg Organic Raw Apple Cider Vinegar is made from delicious, healthy, organically grown apples. Processesed and bottled in accordance with USDA guidlines, it is certified organic by Organic Certifiers. It's a wholesome way to add delicious flavors to salads, veggies, most foods and even sprinkle over popcorn.
Benefits
- Rich in enzymes and potassium
- Support a healthy immune system
- Helps control weight
- Promotes digestion and pH Balance
- Helps soothe dry throats
- Helps remove body sludge toxins
- Helps maintain healthy skin
- Helps promote youthful, healthy bodies
- Soothes irritated skin
- Relieves muscle pain from exercise.
Many of the home remedies for common ailments listed below, call for a tonic of apple cider vinegar (ACV) made by mixing 2 or 3 tea spoons of Apple Cider Vinegar in an 8 ounce glass of water and drinking this before or during each meal.
By taking this nutritious tonic you will, at the very least, be helping to reduce the nitrient deficiencies that result from a typical western diet containing many processed, refined foods.
Natural healing Apple Cider Vinegar kills germs and nourishes the body at the same time, so have a look at some of the many different ways people have been benefiting from the external and internal application of this folk medicine.
Note - If you take Apple Cider Vinegar between meals or before going to bed, always rinse your mouth to avoid any prolonged vinegar contact with the enamel on your teeth. Any acid food or drink however, such as citrus fruit, soda pop amd apple cider vinegar can erode tooth enamel if it is allowed to stay in contact with the teeth for long period of time.
Some of the applications where apple cider vinegar is used
ACNE BLEMISHES
AGE SPOTS
ARTHRITIS HELP
ASTHMA
BLEEDING NOSE
BLOOD PRESSURE
BONE HEALTH
CANCER PREVENTION
CHOLESTROL REDUCTION
COLDS
CONSTIPATION
CORN AND CALLUS TREATMENT
COUGH
DIABETES
DIAPER RASH
DIARRHEA
DIGESTION
HEADACHE
HEARTBURN (ACID REFLUX)
SORE THROAT
WEIGHT LOSS
This is by no means a complete list of natural healing home remedies that use apple cider vinegar. Many more can be found in excellent book title – Dr. Earl Mindell's Amazing Apple Cider Vinegar.
GoIndiaOrganic.com Team is proud to announce the availability of Bragg Organic Apple Cider Vinegar in India. It is now available for all our customers in India be in Delhi, Mumbai, Chennai, Pune, Chandigarh, Bangalore, Andhra Pradesh, Hyderabad.