Garden of Life Raw Organic Meal in India | Beyond Organic Snack and Organic Meal Replacement.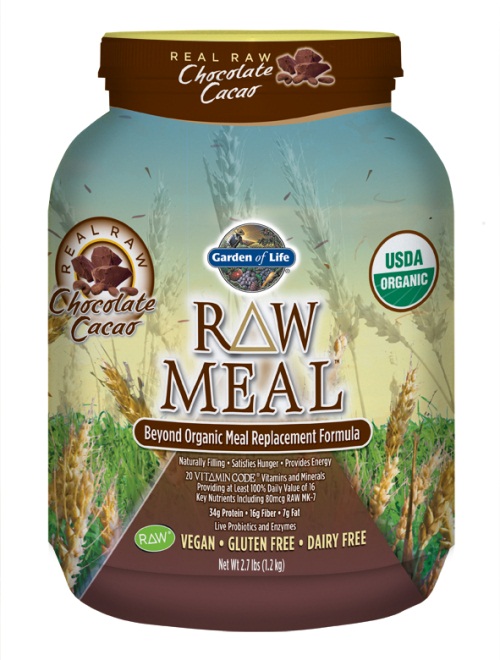 Available in variants – Vanilla, Chocolate, Unflavored
Naturally Filling, Satisfies Hunger, Sustained Energy. Provides all the nutrition of a healthy, well balanced meal
Garden of Life® RAW Meal was formulated to be a snack or meal replacement that satisfies hunger, is naturally filling and provides energy, all while providing the protein, fiber, vitamins and minerals that you would find in a healthy meal of raw foods. RAW Meal provides the nutrition of a well-balanced, healthy raw meal in one delicious serving.
34 gm Protein, 16 gm Fiber, 20 Vitamin Code Vitamins and Minerals, Live Probiotics & Enzymes
Raw Vegan
Gluten Free
Dairy Free
Soy Free
Organic
Real Raw Chocolate Cacao
USDA Organic
Naturally Filling
Provides Energy
20 Vitamin Code Vitamins & Minerals Providing at Least 100% Daily Value of 16 Key Nutrients Including 80 mcg RAW MK-7
34 g Protein · 16 g Fiber · 7 g Fat
Live Probiotics and Enzymes
Certified Organic by QAI
Lactose Free
No Fillers
No Synthetic Nutrients
No Artificial Flavors or Sweeteners
No Preservatives
NON GMO Project Verified
With the Garden of Life Raw meal, empower yourself to achieve Extraordinary Health Goals the easy and delicious way – reach for super nutritious Raw Meal when you need a satisfying Snack or you want an on-the-go Meal. Garden of Life is truly satisfying – truly nutritious – truly good for your body and soul





When you want the best for your body, feed it Garden Of Life RAW Meal – a high protein, high fiber, certified organic, RAW meal replacement powder that provides the nutrition of a well-balanced, healthy meal in one delicious serving. RAW Meal goes Beyond Organic – providing live probiotics and enzymes, Vitamin Code RAW Food-Created Nutrients and Code Factors such as Beta-glucans, SOD, glutathione and CoQ10.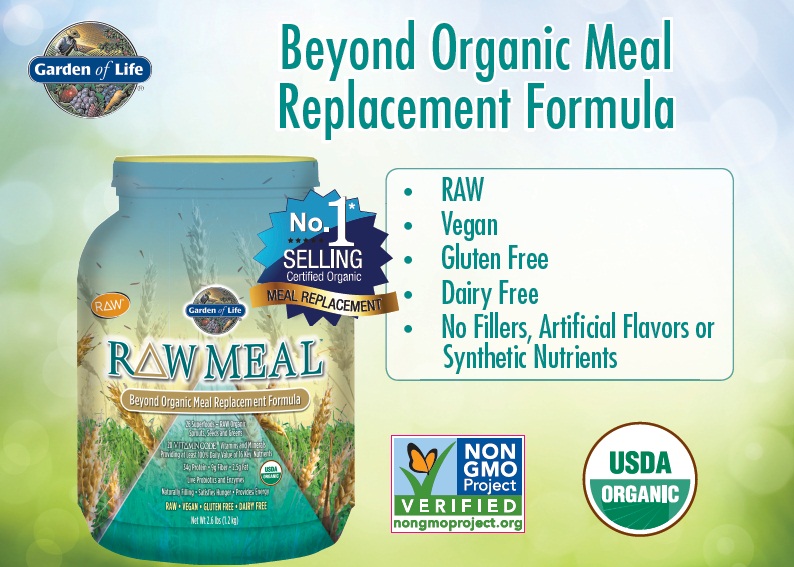 RAW Meal is an excellent source of complete protein, including all essential amino acids, crucial building blocks to good health. One RAW Meal serving provides 34 grams of protein from RAW organic sprouts, featuring sprouted brown rice protein, plus 16 grams of soluble and insoluble fiber. A super-concentrated source of nutrition, RAW Meal is also an excellent source of 20 Vitamin Code vitamins and minerals in the form of RAW Food-Created Nutrients and RAW Food-Chelated Minerals.
RAW Meal contains 26 RAW, organic superfoods including sprouts, seeds, greens and fruits plus live probiotics and enzymes for healthy digestion. RAW Meal is naturally filling, satisfies hunger and provides energy. RAW Meal has a delicious real chocolate taste for maximum enjoyment.
A convenient meal-on the go, RAW Meal is suitable for almost anyone including those on vegetarian or vegan diets, those on low carbohydrate diets or those with gastrointestinal sensitivities to milk, whey or other protein sources. RAW Meal supports healthy weight loss when used in place of a meal as part of a balanced diet plan.
Raw Meal provides the nutrition of a well balanced meal in a convenient on-the-go powder. In one healthy serving you'll get
Sustained energy and support to build, maintain and repair lean muscle mass from 34 gm of Raw Certified Organic Plant Protein – a complete protein with 13 organic sprouted grains, seeds and legumes – and a biological value of 98.2%
Naturally filling and satisfies hunger with 40% DV of Fiber all from Certified Organic grains, seeds, legumes, fruits and sea veggies
Total support for your overall health and well-being from 20 essential Vitamin Code vitamins and minerals
Support for your immune and digestive systems from live probiotics and enzymes
Why Choose RAW Meal?
RAW Meal goes beyond organic by providing live probiotics and enzymes, Vitamin Code® RAW Food-Created vitamins and minerals, as well as nutrient Code Factors™ such as beta-glucans, SOD, glutathione and CoQ10, enabling natural recognition by your body.
Containing 26 superfoods from RAW organic seeds, sprouts and greens, RAW Meal provides 34 grams of protein, 9-16 grams of fiber (depending on flavor) and a healthy 2.5 grams of fat making it an excellent choice for "weight conscious" individuals. RAW Meal also offers 20 Vitamin Code vitamins and minerals providing at least 100% of the Daily Value of 16 key nutrients.
Just as important is what's NOT included in RAW Meal. It is gluten-free, dairy-free and lactose-free. It has no fillers, no synthetic nutrients, no artificial flavors or sweeteners and no preservatives.
Garden of Life Raw Organic Meal Review
What are the Key Benefits of RAW Meal?
A convenient meal-on-the-go, RAW Meal is suitable for almost anyone including those on vegetarian or vegan diets, those on low carbohydrate diets or those with gastrointestinal sensitivities to milk, whey or other protein sources. RAW Meal offers the following:
Provides the nutrition of a well-balanced, healthy meal
Naturally filling, satisfies hunger, provides energy
Excellent source of RAW organic, plant-based protein (34g) – including all essential amino acids
Excellent source of 20 Vitamin Code vitamins and minerals – RAW Food-Created Nutrients and RAW Food-Chelated Minerals that enable targeted delivery and natural recognition by your body
Excellent source of soluble and insoluble fiber (9-16g) depending on flavor
Provides live probiotics and enzymes for healthy digestion
Made exclusively from RAW natural, plant-based, whole foods – uncooked, untreated, unadulterated
Contains 13 RAW organic sprouts, 4 RAW organic cereal grass juices, 5 RAW organic fruits, spirulina and chlorella
Ingredients
Organic Raw Sprouted Protein Blend – Organic Sprouted Brown Rice Protein, Organic Sprouted Brown Rice Sweeteners, Raw Organic Cacao, Organic Amaranth Sprout, Organic Quinoa Sprout, Organic Millet Sprout, Organic Buckwheat Sprout, Organic Garbanzo Bean Sprout, Organic Lentil Sprout, Organic Adzuki Bean Sprout, Organic Flaxseed Sprout, Organic Sunflower Seed Sprout, Organic Pumpkin Seed Sprout, Organic Chia Seed Sprout, Organic Sesame Seed Sprout, Raw Organic Chocolate Flavor, Raw Organic Stevia (Leaf), Raw Organic Vanila flavor
Organic Raw Fiber Blend – Organic Flax Fiber, Organic Coconut Fiber
Organic Raw Green Juice Blend – Organic Oat Grass Juice, Organic Alfalfa Grass Juice, Organic Spirulina, Organic Barley Grass Juice, Cracked Wall Chlorella, Organic Wheat Grass Juice
Organic Raw Antioxidant Blend – Organic Strawberry, Organic Cherry, Organic Blackberry, Organic BlueBerry, Organic Raspberry, Mixed Tocopherols
Raw Probiotic & Enzymes Blend
Bififobacterium lactis, lactobacillus acidophilus (3 billion CFU) Protease 2,500 HUT, bromelain 100,000 PU, Acid protease 10 SAPU, papain 100,000 PU, Lactobacillus bulgaricus, saccharomyces cerevisiaeContains: Tree nuts (coconut)
Directions: Mix 1 level of scoop (scoop included) with 8 ounces of water for a snack. Mix 2 level of scoops with 16 ounces of water for a meal. Delicious with Almond or Rice Milk
Source – http://www.gardenoflife.com/Products-for-Life/Foundational-Nutrition/RAW-Meal.aspx
Review – http://www.amazon.com/Garden-Life-Organic-Chocolate-Pound/dp/B007S6Y6VS/ref=sr_1_3?srs=2592379011&ie=UTF8&qid=1380629149&sr=8-3&keywords=garden+of+life+Raw+Meal
http://www.amazon.com/Garden-Life-Nutritional-Supplement-Chocolate/dp/B00CLD71X8/ref=sr_1_6?ie=UTF8&qid=1380632460&sr=8-6&keywords=garden+of+life+Raw+Meal
RAW Meal naturally satisfies hunger and increases energy, making it great for those looking to manage their diet and looking for a convenient alternative to the pre-packaged or fast-food meals that dominate our on-the-go lifestyles.GoIndiaOrganic brings to you the best quality of nutrition rich food and proteins. Now Get Garden of Life Organic Raw Meal in India. Buy Garden of Life Raw Organic Meal & other raw organic proteins & vitamins readily available in any city of India be it Delhi, Bangalore, Hyderabad, Chennai, Chandigarh, Tamil Nadu, Kerala, Mumbai, Pune, Nagpur, Gujarat, Jhallandhar. Contact us at [email protected] / +91-11-47566727 to enquire about more details. Click on link to place an order online Garden of Life Raw Meal