Langnese 100% Pure Black Forest Honey 250 gm, Pure Bee Honey from Langnese Germany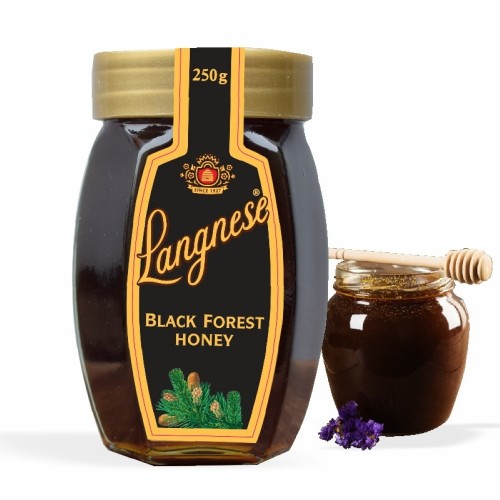 Langnese Pure Black Forest Honey, available now in size of 250 gm in a glass jar.
RAW HONEY - Langnese Black Forest, Pure Raw & Unfiltered Bee Honey. Its woody, tangy fragrance makes this speciality a favourite among true honey lovers

NATURE'S GIFT - Highly acclaimed honey, well know across the world due to its purity and natural wellness quality. Just as nature intended, Langnese honey is naturally rich in pollen composition, acting as a source of Vitamin C, antioxidants, and natural minerals. Bee Pollen, only found in Wild Forest Honey is not only rich in fatty acids, enzymes, carotenoids and vital micronutrients, but also a potent anti-allergenic agent that can boost immune system and lower inflammation naturally
ENJOY SWEETNESS - Spread, pour, slather, douse, bake, decorate or add to recipes, acai bowls, smoothies, baked goods, glazes, herbal teas, morning beverages and more for a balanced diet
ORIGIN - Since 1927 produced in Germany. Today, Langnese Honey remains Germany's best known and most-loved natural honey
PURITY - 100% Pure Bee Honey, with a natural source of energy & strengthens immunity, effective in weight loss, digestion. Bee Pollen presence makes wild honey an exceptionally nutritious super food
LANGNESE HONEY, SERVING FINEST QUALITY OF HONEY SINCE 1927 !!!