Langnese Pure Bee Acacia Honey 250 gm, Raw Honey from Langnese Germany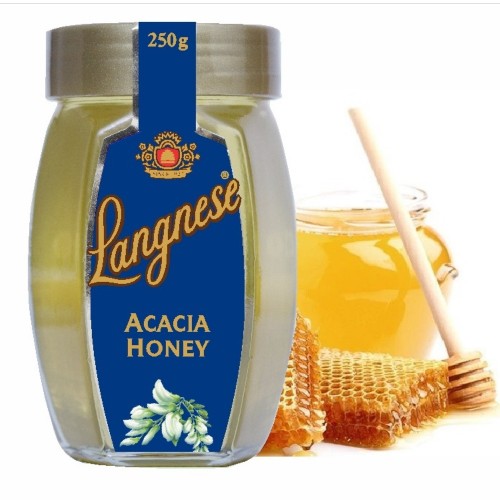 RAW HONEY - Langnese Acacia Honey, Pure Raw & Unfiltered Bee Honey. know for its natural sweet taste is very commonly liked by children and adults. Langnese Acacia Honey with its gentle and mild taste, light and translucent colour with a shimmer is typical sign for pure, raw and high quality.
NATURE'S GIFT - Highly acclaimed honey, well knows across the world due to its purity and natural wellness quality. Just as nature intended, Langnese honey is naturally rich in pollen composition, acting as a source of Vitamin C, antioxidants, and natural minerals
ENJOY SWEETNESS - Spread, pour, slather, douse, bake, decorate or add to recipes, acai bowls, smoothies, baked goods, glazes, herbal teas, morning beverages and more for a balanced diet
ORIGIN - Since 1927 produced in Germany. Today, Langnese Honey remains Germany's best known and most-loved natural hone
PURITY - 100% Pure Bee Honey, with a natural source of energy & strengthens immunity, effective in weight loss, digestion. Langnese Acacia honey is a great source of energy. Use this honey as immunity booster, for healthy weight loss, skin care and Energy Booster. Anti-bacterial, anti-fungal, anti-fungal, Energy Source, Reduce cough and throat irritation
LANGNESE HONEY, SERVING FINEST QUALITY OF HONEY SINCE 1927 !!!