Wedderspoon Raw Manuka Honey Active K Factor 16+ 1 kg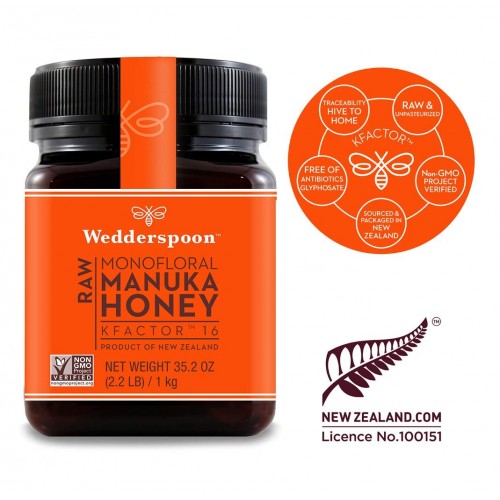 Wedderspoon KFactor 16+ available in a packing of 1 kg
WEDDERSPOON MANUKA HONEY IS SOURCED FROM NEW ZEALAND'S NORTH AND SOUTH ISLANDS.
This is where our beekeeping partners tend to and transport the hives for harvest. Our Manuka Honey is produced using a raw creaming process to maintain all of the naturally-occurring beneficial wellness properties inherent in this unique functional food. We take pride in harvesting, packaging, and labeling all of our Manuka Honey in New Zealand to ensure we are meeting the highest standards for quality and authenticity.
We are proud to bear the FernMark license on our Manuka Honeys. The FernMark is formal recognition of our role as an ambassador of the New Zealand story and serves as a third party verification that our products are authentically from New Zealand.

Gold Standard of Manuka Honey

Raw Manuka Honey with 16 Kfactor and 90% Pollen Count. High Manuka Pollen Count

Hives are made from enviormentally friendly material

BPA Free Packaging

Smooth, Creamy, Unpasturised, Unadulterared Manuka Honey, One of the Best Manuka Honey in The World.
A honey that is "wholly or mostly" from the Leptospermum scoparium (manuka) plant.
As bees have a considerable flight distance and need variety in their diet, a honey will never be 100% one nectar source.