Environmental Detox Clay Bath Kit – 5lb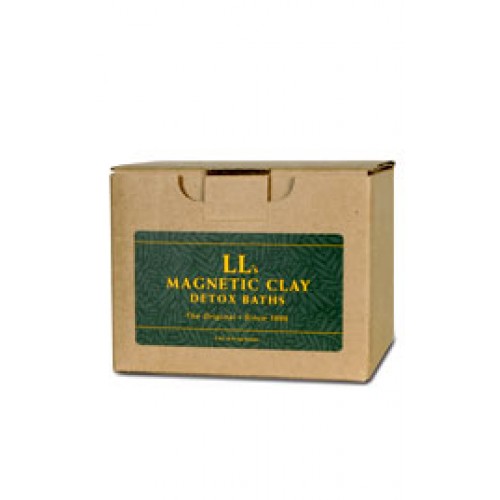 LL Magnetic Clay Detox Baths, The Original . Since 1995
LL's Magnetic Clay bath kits are packaged in bulk and will administer 10 one cup baths per kit. Included in each kit are 5lbs of bulk formula, 8 pages of graphic step-by-step instructions, 15 pH testing strips, fiberglass drain screen, flat drain stopper, and herbal formula pack
This Clay Bath Assists in Eliminating
This bath formula assists in eliminating: Generalized toxic exposures in our daily life, including inorganic and organic chemical residues, nicotine, pesticides, insecticides, herbicides, fungicides, industrial pollution, food preservatives, phthalates (plastic residues, artificial fragrances), PCB's, VOC's, PFOA's (non-stick surfaces), radiation exposures (nuclear, medical, food, etc), various carcinogens, and more
Sources of Environmental Toxicity
Air pollution, polluted municipal and ground water supplies, various toxins passed up the food chain. The sources for environmental toxins are near limitless in our industrialized world.
Related Symptoms of Environmental Toxicity
The World Health Organization (WHO) has acknowledged environmental pollution as the underlying cause in nearly 80% of all chronic degenerative diseases. Toxic chemicals and metals have the potential to negatively impact every biological function occurring within your body.
CLAY BATH PREPARATION
Advance preparation will ensure that your clay bath goes smoothly and you will be relaxed. Set aside a block of time so that you will enjoy the experience and not be rushed. You will need to have the following on hand
MATERIALS NEEDED
• Duck tape (or another waterproof tape)
• Standard electric kitchen blender
• Surgical or dust mas
DETOXIFICATION SYMPTOMS
Symptoms from toxin elimination are nausea, headaches, lightheadedness, a pulling sensation from parts of the body like the stomach, and fatigue
CONTRAINDICATIONS & CAUTIONS
Not recommended for those that are pregnant or nursing. Always consult with your doctor if you are on prescription medication, have a heart condition, high blood pressure, or other special health concerns. Also, if you are elderly or extremely toxic, weak or ill, you may wish to use less clay or stay in the bath for a shorter amount of time (or start with foot baths). These detoxification clay baths may also remove some minerals and electrolytes, so be sure to replenish. DO NOT take a clay bath after a heavy meal
CLAY BATH GUIDELINES
Follow the guidelines for the category that best defines your personal health situation. It is recommended that you begin your bath series with the least amount of clay formula in each category and gradually build up to the maximum amount
Chronic Conditions & Environmental Sensitivity
-Use 1/2 to 1 cup of clay formula per bath
-Space your baths from 5-7 days apart
-Stay in the tub for 10 to 15 minutes
Minor Ailments, Fatigue, "Not feeling up to Par"
-Use 1 to 2 cups of clay formula per bath
-Space your baths from 3-5 days apart
-Stay in the tub for 15-20 minutes
Health Maintenance, Average Health, Active Life
-Use 1 to 3 cups of clay formula per bath
-Space your baths from 3-5 days apart
-Tub time can be a full 20 minutes or more
CLAY FOOTBATH PROCEDURES
The total amount of water used in a foot bath should be just enough to cover above your ankles. Put your feet in the bucket and set your timer for the appropriate time, or check your clock. When the time is up, remove your feet and rinse well with warm water. Drink plenty of water, herbal tea, and replenish your electrolytes. The clay water left in the foot bath can be disposed of down the toilet or drain
HOW MANY BATHS DO I NEED?
After 4 to 12 baths, most individuals feel a strong sense of relief and well-being. However, detoxification is a gradual process and most people benefit from a longer series of baths. Many factors come into play, such as age, general health, and the total burden of toxins that lie within the body; patience is the key when embarking on any successful detox protocol.
HOW DO I KNOW IF THE CLAY BATHS ARE WORKING FOR ME?
The clay that settles to the bottom of the tub during the bath has absorbed the impurities and toxins drawn from the body. This clay may appear darker than the rest, even black. The color of the water in the tub may also change, but it is not necessarily an indication that it has drawn out toxins from the body. You may experience feelings of physical or emotional relief, fatigue, increased sense of smell, body odors, or a general sensation of 'lightness' after the bath.
Symptoms such as nausea, or a 'pulling' effect from the stomach or other area indicates toxins moving. All of these are common effects.
REPLENISHING MINERALS?
Some minerals and electrolytes may be removed by the clay bath and should be replaced immediately. We strongly advise taking a green "superfood" product that contains spirulina, blue-green algae, or something similar, following a clay bath. We also recommend the use of our Ancient Minerals topical magnesium product line to restore intracellular magnesium levels, which is critical for supporting and enhancing your detoxification efforts.
WHAT IS THE PROTOCOL FOR CHILDREN?
While we have had great success in administering clay baths to children, it is always important to start slowly, especially with those who have chronic or comprised health conditions.
• Children 10-50lb…………….1/3 cup for 10 to 20 minutes
• Children 50-75lb…………….1/2 cup for 10 to 20 minutes
• Children 75-100lb……………3/4 cup for 10 to 20 minutes
We advise starting with the least amount as recommended above. One can gradually increase the amount of formula/time in the tub as the therapy continues, so long as there are no symptoms of detox
DOES THE CLAY HAVE OTHER USES?
Mixed with water, it can help draw out infection, reduce the swelling of insect bites, promote the healing of wounds, tend to burns, and reduce pain. Clay is a multifaceted healing substance with an extensive array of applications. Please visit the website www.magneticclay.com for more details.