Barlean's Organic Primrose Oil – 60 softgels | Premium Quality of Primrose Oil | Now get Organic Evening Primrose Oil in India
Barlean's Evening Primrose Oil is highly prized for its high content of a special fatty acid called Gamma-Linolenic Acid (GLA).
Ordinarily, GLA is created in the body from dietary essential fatty acids such as those found in flax oil. However, in some people GLA is not adequately produced in the body. Evening Primrose Oil offers a direct source of GLA for these individuals.
Women's Most Revered Health Supplement

Barlean's – World's First Organic EPO

Abundant Source of GammaLinolenic Acid (GLA)

Cold Pressed Fresh

Freshness Date
For your vibrant health & energy. Evening Primrose Oil is revered for providing relief from symptoms associated with PMS and menopause such as cramps, hot flashes, breast tenderness and moodiness.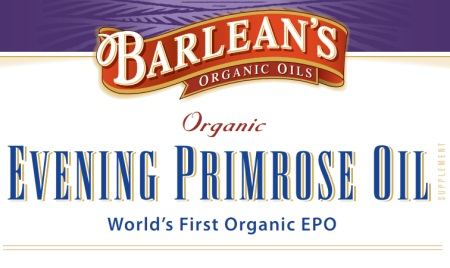 What is Evening Primrose
Evening primrose oil is from the seeds of the evening primrose plant and is great for skin disorders such as eczema, psoriasis and acne.
Evening Primrose Oil is considered to be highly effective in pregnancy for preventing preeclampsia, preventing late deliveries and starting and shortening labor.
It is an excellent product for woment, evening primrose oil is used to fight PMS, breast pain, endometriosis, symptoms of menopause and hot flashes.
Evening Primrose Oil is highly prized by women who strive for:
Clear, smooth skin
Lustrous hair and strong nails
Hormonal balance
Balanced mood
Evening Primrose Oil may support the structure and function of
 Inflammatory and immune response

Cardiovascular System

Glands and Organs responsible for

Hormone metabolism

Nerve Function and Joint Health
Ingredients – Organic Evening Primrose Oil, Gelatin, Glycerine, Water, and caramel color
Suggested use – 2 softgels per day
GoIndiaOrganic introduces the World's First Organic Evening Primrose Oil from Barlean's Organic Oils, USA, now available in India. Get Organic Evening Primrose Oil in India, be it in any city of India – Delhi, Gurgaon, Pune, Chandigarh, Ahemdabad, Chennai, Hyderabad, Bangalore, Mumbai. Contact us at +91-9958599911, +91-11-47566727 , email us at [email protected], or place your order online with us at our Online Organic store
Source – http://www.barleans.com/specialty-oils.asp
Other Sources of information
http://www.naturalnews.com/036177_evening_primrose_oil_nutrition_healthy_oils.html
http://herbs.lovetoknow.com/Evening_Primrose_Oil_Benefits
http://www.herbwisdom.com/herb-evening-primrose.html